SUNCLEAR ALIGNERS
Clear Aligners That Deliver Visible Results at an Affordable Price
Increasingly, patients are requesting aligners to straighten their teeth, but due to exorbitant aligners lab fees many decline treatment. Sun Dental Labs offers a state-of-the-art solution to overpriced aligner systems. The affordability of the new SunClear® invisible aligners can lead to a higher acceptance rate from your patients. The newly produced clear aligners can also provide the same corrective results as other brand-name clear aligners on the market. That's because the SunClear invisible aligner is created by dental professionals using the state of the art 3D Orthodontic software.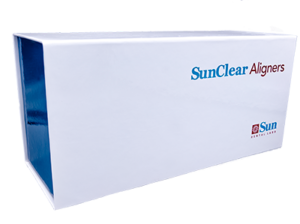 Designing the Best Plan for Your Patients
Unlike some invisible aligners options that rely on dental impressions only, our clear aligners rightly require a panoramic X-ray as part of the production process. With X-ray images, you can create a more comprehensive treatment plan for your patients, leading to better patient outcomes. And, because we design and manufacture SunClear aligners ourselves, they are more affordable. In fact, we offer savings of up to 50 percent on lab fees for clear aligners.
Benefits of Sourcing Invisible Aligners from Sun Dental Labs
When partnering with Sun Dental Labs for invisible aligners, you will experience convenience while providing patients with effective treatment plans. We offer:
File Acceptance from Any Digital Scanner

You do not need to purchase a special Intra-Oral Scanner to partner with our dental laboratory. We accept files from any digital scanner and offer a simple method of uploading through our website.

Professional Aligner Plan Production & Simple Modification

Our team will generate a ClinChek-like plan for your approval, after which you can use our SunClear® Pro 3D software to review, modify, and accept the plan.

Quick Turnaround Times

While other companies may take up to 45 days to manufacture an invisible aligner system, we can produce SunClear aligners in as little as 15 working days.
Founded in 2004, Sun Dental is a full-service dental lab that partners with dentists around the world to provide digital solutions to creating fixed and removable dental restoration products. As your partner, we promise full price transparency and will never sell SunClear invisible aligners directly to the public.
For more information about the SunClear aligner, contact Sun Dental Labs.
Resources:
Case Simulations:
20 Aligners and under –
30 Aligners and under –
40 Aligners or more –