Dental Care Is Changing
For years, dentistry was behind in terms of technology. While other medical specialties advanced into the digital realm and improved their efficiencies and patient satisfaction, dental technology remained stagnant due to slowly evolving solutions and high cost barriers.
At Sun Dental, we believe now is the time for the dental industry to go digital. As a global dental company, our goal is to provide our customers and partners the digital solutions and high-quality restoration products they need to successfully advance their businesses and to compete in the digital landscape.
Our Plan for the Evolution of Dentistry
Today, 90% of dentists still use traditional methods of creating a dental impression. The process begins by utilizing an impression tray. The dentist or orthodontist puts a sludgelike impression material on it. They stick it in the patient's mouth, and they have to bite down. Not only is the process unpleasant for the patient, but this manual method often results in a poorly fitting restoration, and in many cases results in multiple remakes due to the lack of precision.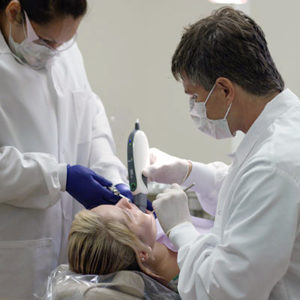 At Sun Dental, we believe it's time for a better way to create high-quality dental restorations and improve our patients' smiles without the uncomfortable impression process. It is this vision that inspired our team to create the SunDigital Workflow.
The SunDigital Workflow is a fully digital way to create high-quality dental restorations. The system starts with an intraoral scanner–a 3D scanning device that scans the patient's mouth and creates a three-dimensional image of their teeth. The dentist can immediately see the image on their laptop to verify the impression's accuracy. The 3D data is then sent through our innovative desktop or mobile app, SunCloud, and the case is digitally designed and reviewed for quality control by our in-house dental technicians. Once the case is approved for accuracy, the case is off to manufacturing.
"There are half a dozen intraoral scanners on the market, but nobody has created a digital workflow that harmonizes in a way that is so simple and user friendly to make a dental device, a crown, or an implant."
Due to our centralized manufacturing process, the SunDigital Workflow allows us to create a complete dental restoration in 5 days in the lab compared to the competition that takes 2 to 3 weeks in lab, plus a 35% to 45% increase in cost per restoration.
Our clients utilizing our workflow tell us that they are experiencing higher levels of efficiencies in their practice, and they are significantly reducing remakes and patient chair time. Our goal is to partner with dentists and labs across the globe to ultimately play a part in establishing digital dentistry as the standard of care and to make it affordable and accessible to patients all over the world.
"I was shown how to scan my impression by one of the experts at Sun Dental Labs, and it was absolutely amazing how the workflow progresses to a final product. I was really impressed not only because they have their own computer programmer but also because they are always tweaking their workflow and the possibilities for digital dentistry. When I returned to my practice, a zirconia crown was waiting for me from the scan of the impression I produced with the desktop scanner. Overall I was impressed with the friendly staff, professionalism and talent of a lab that really aims to please."
– WILLIAM BONGIORNO, DDS, FICD