Implants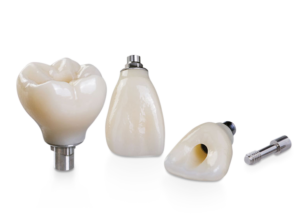 Sun Dental Labs' implants feature cutting-edge technology and materials. By choosing Suntech implants, you receive more than customized design. Our dental implants are precision-matched to fit each client perfectly. This allows secure placement, increases implant success rate and boosts patient satisfaction.
Our Suntech custom implants and abutments eliminate the need to maintain stock inventory abutments. We have optimized our implant abutments for soft tissue contours and to help patients maintain good oral health. You and your patients will enjoy the quality aesthetics of our implants and abutments. Additionally, the customized fit and reliability of our implants and abutments means you will significantly reduce the time spent making manual adjustments.
Sun Dental Implant Product Offerings
When it comes to restoring your patients' smiles, we have the ideal implant product offering. Strong and stable, our dental implants will last for years, and our custom implant abutments fit perfectly along soft tissue contours.
*All implant restorations using digital scans must use NT Trading scan bodies, please email info@sundentallabs.com to find out more information*
PFM Implants
NP PFM Implant Crown
SP PFM Implant Crown
High Noble PFM Implant Crown
Suntech® Custom Implant Abutment
Other Implant Products
Stock Abutment Preparation
Clear Surgical Stent
Verification Jig
Analog
Soft Tissue Model
Downloads