Crowns and Bridges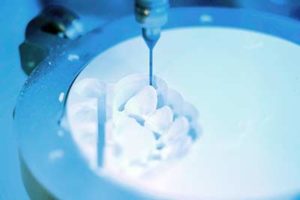 Sun Dental Labs focuses on cutting edge technology combined with top-performing materials to create our crowns and bridges. This results in dependable and beautiful work that you and your patients will appreciate. Patients have high expectations when it comes to dental crowns and bridges, and Sun Dental Labs can help you consistently surpass even the highest standards. By only offering the highest quality ceramic, porcelain, metal and resin, Sun Dental Labs' crowns and bridges look completely natural and are more durable than ever.
Sun Dental Labs provides a variety of dental crown and bridge options for a range of applications. From all-ceramic to porcelain fused metal, the materials of our dental crown and bridge products have specific advantages over more conventional materials. For instance, the translucency and precision color matching technology of our all-ceramic crowns and bridges replicates the patient's own teeth so perfectly, it looks as natural as the original tooth. Combined with our industry-leading Digital Dentistry technology, restorations through Sun Dental Labs will keep your patients smiling for years.
Our Dental Crowns & Bridges Product Offerings
Your patients will want to show off their smile when you choose Sun Dental to design and develop your crown and bridge restorations.
All-Ceramic Dental Crowns & Bridges
SunCeram® High Translucent Zirconia
Suntech® Full Contour Zirconia
Suntech® Layered Zirconia
e.max®
Zirconia Maryland Bridge
Porcelain Fused to Metal Crowns & Bridges
Porcelain to Non-Precious
Porcelain to Semi-Precious
Porcelain to White Gold
Porcelain to Yellow High Noble
Captek
Metal Lingual (Anterior)
Metal Occlusal (Posterior)
NP Maryland Bridge
NP Post & Core
SP Post & Core
High Noble Post & Core
Porcelain Butt Margin
Full Metal Crowns
Full Non-Precious Crown
Full Semi-Precious Crown
Full Gold Crown Yellow High Noble
Full Gold Crown White High Noble
Onlay/Inlay Yellow Gold
Y+ 2%
Resin Dental Crowns & Bridges
Gradia Composite
Suntech® Temporary Crown