Are Invisible Aligners Worth the Cost?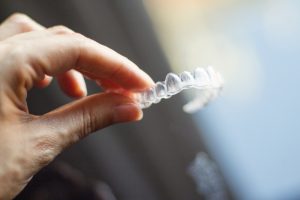 People respond positively to a great smile. That's undeniable, no matter where you live. In fact, it's been said that people all over the world smile in the same language. A smile encourages trust and makes you seem approachable, even warm and friendly. No less important is the fact that a nice smile makes you more attractive. But none of this may be news to you; you're here because you're looking for an affordable way to improve your smile.
For decades, braces have been among the most common treatments to help people achieve straighter, brighter, and healthier smiles. The risks are minimal, and most practices offer financing to make the cost of braces less burdensome. But you want invisible aligners, don't you? You want to avoid that junior high look—a "mouth full of metal"— and with clear aligner systems, no one may even notice you're wearing braces. What's more, with an appropriate treatment plan, invisible aligners will straighten teeth just as effectively as traditional metal brackets and wires.
Unquestionably, one of the biggest obstacles to invisible aligners is cost. Aligners, especially name-brand products, can be expensive. To avoid the high cost, many patients purchase do-it-yourself aligners from online retailers, but all too often, this option leads to disappointment.
An Innovative Solution
Based in Tampa, FL, Sun Dental Labs partners with dental practices to produce affordable invisible aligners that are equally as effective as established brands. Unlike DIY systems that rely on dental impressions, we create our aligners using panoramic X-rays of patients' roots and bone, which allow your orthodontist to devise a comprehensive treatment plan. And because we are an express dental lab, we can deliver your invisible aligners within 15 days after your orthodontist approves the plan.
Want more information? Ask your orthodontist about SunClear® invisible aligners from Sun Dental Labs. If your practitioner has not yet heard of us, we are more than happy to answer any questions about the products we produce for practices worldwide.