Digital Dental Lab Services for Practices in Jacksonville, FL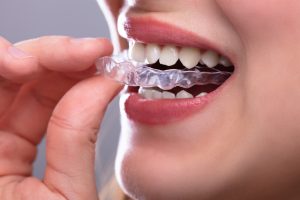 As a dedicated dental practitioner, you want to offer the best possible solution for your patients who want to straighten their teeth. For many of them, clear aligners can provide the corrective results they seek, but these systems often come with high lab fees that can make treatment unaffordable. Fortunately, in Jacksonville, there's Sun Dental Labs. Through our digital dental lab services, your patients can get SunClear® invisible aligners – an innovative solution to expensive brand-name aligners.
Affordable & Effective
Lab fees for our SunClear system are up to 50 percent less than those for comparable products, which means your patients are much more likely to accept treatment. Affordability comes at no sacrifice to quality, however, because our invisible aligners are as equally effective as brand-name products and far superior to do-it-yourself options. How can we offer both affordability and efficacy?  Companies that make DIY aligners typically rely on impressions only, but we design and produce aligners based on panoramic X-rays of the patient's teeth and bone. The result? A comprehensive, customized treatment plan that follows the dentist's prescription exactly.
A Simple Design Process
Just upload a digital scan from any digital scanner, and we will create a ClinChek-like plan for you to review and modify. You can revise your plan an unlimited number of times using the SunClear 3D orthodontic software prior to plan acceptance.
Expedited Service
Whereas other companies can take up to 45 days to produce your patients' invisible aligners, we can have aligner systems ready in as little as 15 working days. That's because we are an express dental lab committed to providing speedy turnarounds.
Furthermore, as a full-service dental lab that partners with dentists worldwide, we maintain exceptional quality standards and promise full price transparency with our dental products. Contact us today to learn more about our digital dental lab services and the clear aligners we can create for your patients in Jacksonville.