Dental Lab Products Manufactured for Patients in Jacksonville, FL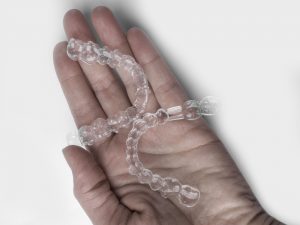 One of the primary reasons patients decide against invisible aligners is cost. Alignment treatment can be expensive, especially if patients opt for well-known brands. To get the affordable treatment they want, many people purchase at-home aligner systems from online retailers. Unfortunately, the outcomes are often less than satisfactory. As a maker of fixed and removable dental lab products, Sun Dental Labs offers Jacksonville patients an innovative alternative—SunClear® aligners. These clear aligners straighten teeth just as effectively as brand-name invisible aligners and cost significantly less. How is that possible?
We Produce Our Own Clear Aligners
We design and manufacture these aligners ourselves, so we can offer savings of up to 50% on lab fees. That means a higher acceptance rate for you and affordable alignment treatment for your patients.
Based on Panoramic X-Rays
We make clear aligners the right way. Instead of relying on dental impressions as many online companies do, we utilize panoramic X-rays to design our system. As you know, these images of patients' root and bone structure allow you to devise a comprehensive treatment plan that you can adjust as you see fit.
An Easy Ordering Process
You need no special equipment to order your patients' clear aligners. Simply use your office's digital scanner to send us your patient's files. Our digital dental lab professionals will then provide you with a ClinChek-like plan that you can review, revise, and accept using our SunClear 3D orthodontic software.
To learn more about the SunClear system or for information about other dental lab products we create for practices in Jacksonville, Florida, contact us today.