Affordable Digital Dental Lab Services for Clear Aligners for Practices in Clearwater, FL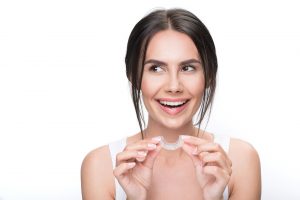 More than ever patients are using clear aligners, but the struggle remains finding an affordable solution to deliver desired results. Many are unable to bear the expense of some of the brand-name invisible aligners currently on the market, and direct-to-consumer options, while cheaper, often produce substandard teeth alignment outcomes. At Sun Dental Labs, we offer Clearwater dental practices a digital solution that's far superior to do-it-yourself aligners solutions and just as effective as other brand-name clear aligners systems, but at a significantly better price point. It's called the SunClear® invisible aligners.
Invisible Braces That Are Affordable & Effective
Unlike do-it-yourself options that rely on impressions, we create our clear aligners using your patients' panoramic X-rays. With these images of roots and bone, we design and produce aligners that will help you devise a comprehensive, fully customized treatment plan.
Other benefits of working with Sun Dental Labs for SunClear clear aligners include:
Significant Savings on Lab Fees
We know that lab fees related to the production of other clear aligner products can be cost-prohibitive for your patients. Save up to 50 percent on lab fees when compared to other manufacturers.
A Simple Aligner Design Process
You don't need a special scanner. Just send us a digital scan with the equipment you have and we will create a ClinChek-like plan for you to review. Also, enjoy unlimited modifications prior to accepting the plan with easy-to-use SunClear 3D orthodontic software.
Quicker Aligner System Manufacturing
Your patients can have their new aligners seated in just 15 working days after you accept the plan.
We Follow the Dentist's Prescription
Our goal of creating high-quality aligners treatment depends on you, the trusted practitioner.
Learn More About Our Clear Aligners
If you would like more information about our clear aligners, contact Sun Dental Labs. A representative of our dental laboratory would be happy to answer your questions about the SunClear invisible aligners or any of the other dental lab products we provide for practices throughout Clearwater.