Dental Patients in Peachtree City, GA, Can Now Get Affordable Invisible Aligners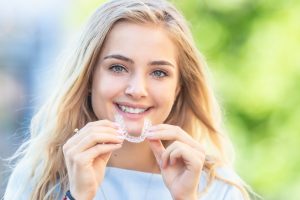 Dental patients in Peachtree City who want to improve their smiles routinely choose invisible aligners over conventional braces. It's not hard to understand why. Invisible aligners are unobtrusive; in most situations, people can't even tell you're wearing them. The problem for many patients is that brand-name aligners systems are just too expensive, which likely explains why some of your patients opt for do-it-yourself aligners. While DIY systems are no less transparent than brand-name aligners, the results they deliver can be unpredictable. But what if there was an invisible aligner system that was both affordable and effective?
Introducing the Affordable SunClear®
At Sun Dental Labs, we make aligners the right way. Unlike manufacturers of DIY systems, we use patients' panoramic X-rays, not impressions, to produce our SunClear invisible aligners. Detailed images of roots and bone allow us to create a doctor-supervised aligner system that will address a range of common alignment issues.
A Straightforward Design Process
Ordering invisible aligners from Sun Dental Labs is simple. You can upload a digital scan using any intraoral or desktop scanner. Our team will then generate a ClinChek-like plan for you to review, modify, and accept. With our SunClear 3D orthodontic software, you can revise your plan as much as you need to before you accept it.
Expedited Service
Patients can wait as long as six weeks to receive their invisible aligners from other companies. Through our digital dental lab, you can have your patients' custom aligners seated in as little as 15 working days.
The Sun Dental Promise
We are fully committed to providing practices with affordable orthodontic solutions. That means we maintain transparent prices and will never sell aligners directly to consumers. To learn more about the invisible aligners we created for practices throughout Peachtree City, Georgia, contact us today.