Clear Aligners Available for Your Patients in Orlando, FL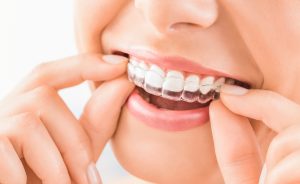 When your patients who want to improve their smiles choose clear aligners, they often opt for the well-established brands. However, for too many patients, popular systems are not an option; they're simply too expensive. So, patients either decline to fix their alignment problems, or purchase aligners from direct-to-consumer companies. At Sun Dental Labs, we believe both choices are less than optimal. As a provider of fixed and removable dental restoration products for Orlando practices, we think patients deserve high-quality alignment treatment at an affordable price. That's why we design and produce the innovative SunClear® aligner system.
Savings on Lab Fees
With savings as much as 50 percent, your patients will be much more likely to accept your recommended treatment.
Aligners as Effective As Brand Name Products
The SunClear system delivers predictable results. Unlike direct-to-consumer companies, we produce aligners the right way, using patients' panoramic X-rays, which show teeth and bone structure in depth. This allows you to devise a treatment plan that you can monitor and adjust. In short, our clear aligners follow your prescription.
A Simple Design Process
You don't need any specialized equipment. Just use your office's digital scanner to upload a patient's scan to our website. After that, we will create a ClinChek-like plan that you can modify with our easy-to-use SunClear 3D orthodontic software. And you can revise the plan as many times as necessary before accepting it.
Short Turnaround Times
By partnering with Sun Dental Labs, you can have your patients' clear aligners seated in little as 15 working days. Compare that to the weeks-long wait that's typical with many manufacturers.
If you would like more information about how our SunClear aligners can benefit both your Orlando practice and your patients, contact Sun Dental Labs today.